When it comes to easy, simple dinner recipes, I can't get enough. And if it's something that I can make for almost any meal of the day, I'm a happy camper. I'm assuming you're the same, right?
One hectic day not too long ago, I realized that I didn't have anything for dinner. Usually when this happens, I throw together something with eggs because I always have them on hand. Quiche is usually my go-to dinner, but I didn't have everything I needed for my favorite quiche.
I twiddled my thumbs, stared at the fridge, and pulled out the items for this recipe and got to work. What I came up with is probably something with an identity crisis; part quiche, part Spanish tortilla. But it works! Make it for breakfast, or for a tasty brunch. Or serve it with a green salad for dinner.
If you have red or yukon potatoes, they would be fabulous for this recipe. And you wouldn't even need to peel them if you didn't want to. Have bacon instead of ham? Perfect! Don't fret if you don't have green onions. Just use finely diced yellow onions instead.
Now who wants some?
Ham and Cheese Potato Bake
print this recipe
3-4 large russet potatoes, boiled and peeled
2/3 cup diced ham
2 cups shredded cheddar cheese
1 bunch green onions, sliced thin
5 eggs
1 cup milk
salt & pepper
Preheat your oven to 350 degrees. Lightly spray a 9x13 baking pan with non-stick cooking spray. Thinly slice your potatoes and layer them in the pan. My potatoes were pretty big so I cut them in half and then sliced them. Season with salt and pepper.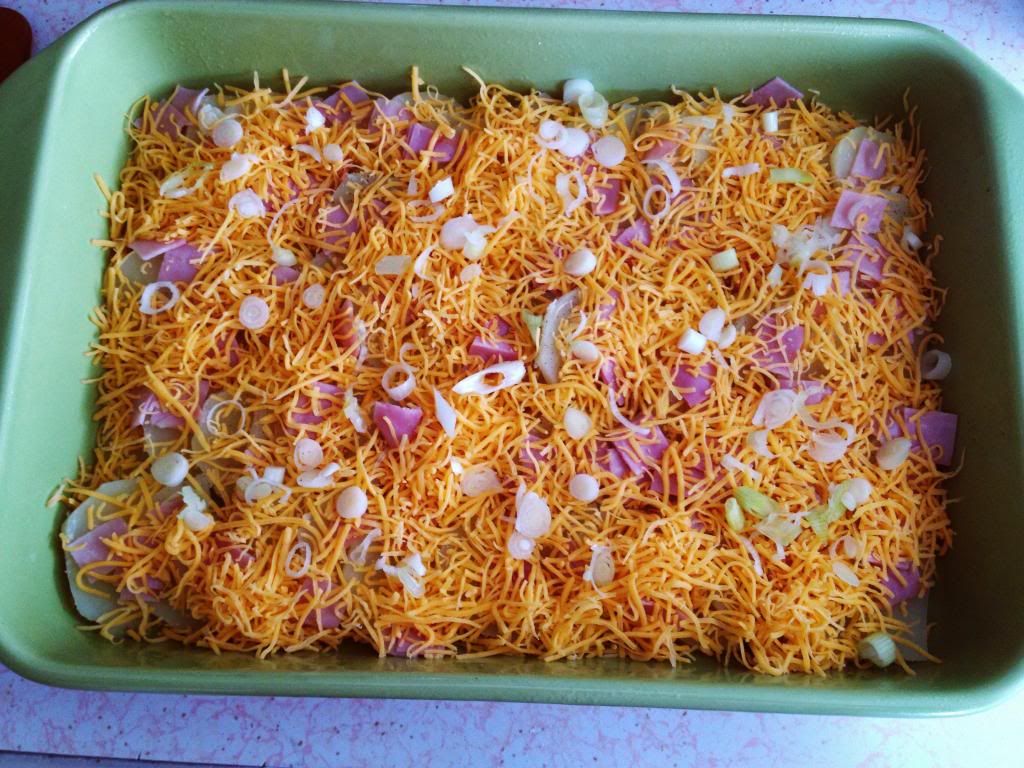 Next, layer on half of the ham and cheese. Top with half of the green onions.
Repeat the same process for the second layer, but don't add the cheese just yet.
Whisk the eggs and milk together in a small bowl and pour over the ingredients in the pan.
Give the pan a good shake or two to make sure the egg mixture settles into all the nooks and crannies.
Now top with the remainder of the cheese.
Bake for about 35 minutes or until the eggs are set and the cheese is just starting to get crispy on top.
That's it! Oh yeah, last step: scarf it down.
-Candice