Fresh rhubarb is definitely a taste of my childhood. When I was little, my mom had a big rhubarb plant and I would happily pull off a stalk, clean it off, dip it in sugar, and eat it.
Now, my mom has
two
rhubarb plants that pop up every spring. They are huge and they're always begging to be picked.
To be honest, rhubarb isn't one of those things that I just love. I tend to like it better raw than in baked goods. Sometimes, it can get a little stringy and celery-like. It is really tart. It always seemed like one of those old-timey foods. I mean, why bake with rhubarb when you can make brownies?
But the thing is, Paris is a hard climate to grow a lot of things. It has been known to freeze in the middle of summer. I mean, we can barely grow good tomatoes outside. So rhubarb seems like a miracle plant to me. The fact that it springs up so early in the cold weather and does so well...seems amazing.
So I had to take advantage of this wealth of rhubarb. Last weekend when we were home, I wanted to try a rhubarb upside-down cake that I saw on Pinterest. Then I thought,
Why make a cake when I can make a crisp?
Guys, I
love
crisps. They are hands down my favorite dessert. Apple is probably my favorite. But I had never made a rhubarb crisp before. In fact, I've never even cooked with it. So it seemed like a hard sell, but I was up for the challenge.
This is my Grandma Viola's recipe for crisp topping, and it is always a hit. It is so easy and delicious. The rhubarb cooks down well and still retains some of it's tartness, which is perfect for a springtime dessert, I think. Serve while still warm with some whipped cream or ice cream.
Rhubarb Crisp
makes about 8-10 servings
print this recipe
6 cups rhubarb
1 cup sugar
1/4 cup orange juice
1/4 tsp cinnamon
3 Tbs cornstarch
Topping:
1 cup flour
1 cup oats
1 cup brown sugar
1/4 tsp baking soda
1/4 tsp baking powder
1/2 tsp salt
1/4 tsp cinnamon
1/2 cup butter, softened
Preheat oven to 350º. Slice the rubarb about 1/2 inch thick on the diagonal.
Combine in a bowl with the orange juice, sugar, cinnamon, and cornstarch. Now, because I think the tartness of rhubarb varies, you can give your mixture a sample to see how sweet it is. If you think it's too tart, go ahead and add a little more sugar.
Stir well and let sit while you prepare the crisp topping.
Combine the ingredients for the crisp topping and mix well until there are bits no bigger than a pea. I used my mixer, mostly because I'm lazy. But you can always use a bowl and a pastry cutter or even your hands.
Pour the rhubarb mixture into a 9x13" pan and spread evenly. Then top with the crisp mixture.
Bake about 40-45 minutes or until the top is browned and the juice coming out of the sides is thick and bubbly. Is there nothing better than the smell of a baking crisp? I don't think so. Nothing tastes better, either.
If you've got a rhubarb plant hanging around, whip this up! You won't be sorry.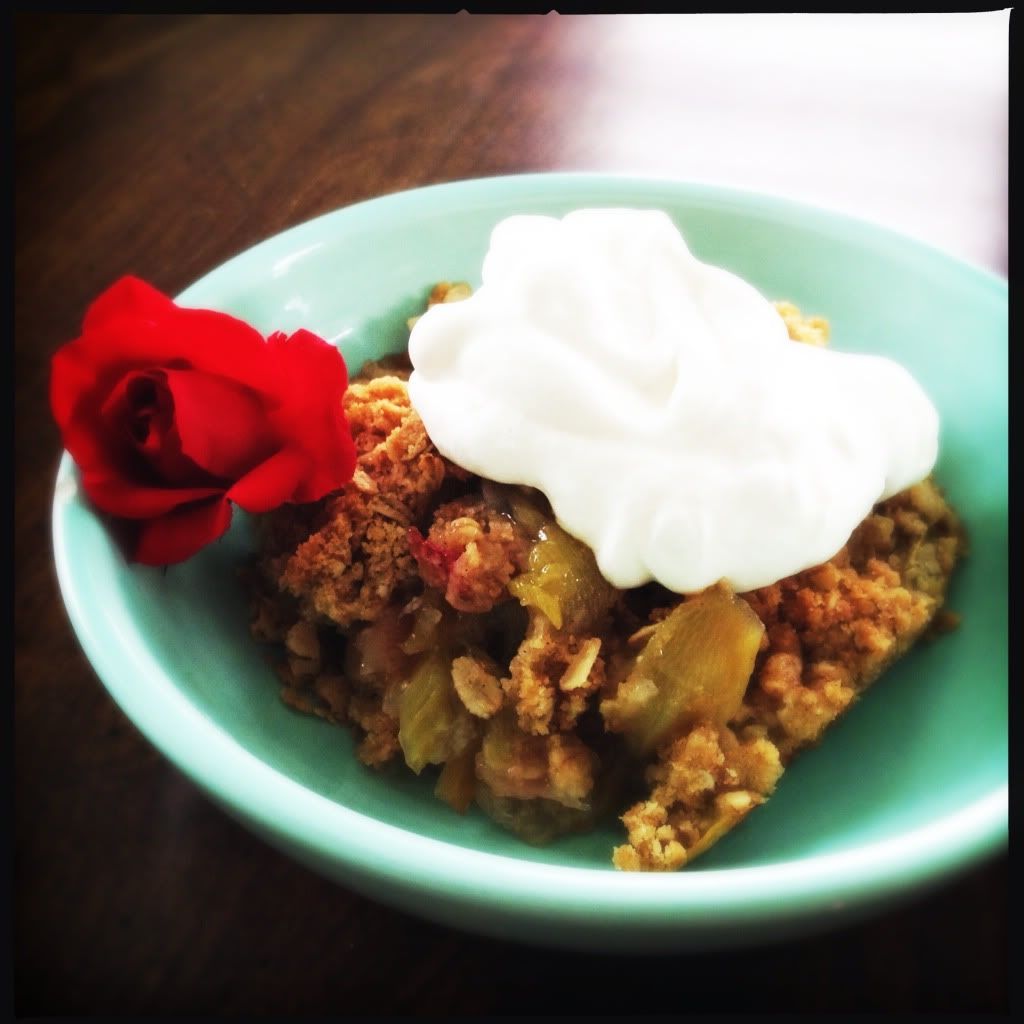 -Candice