Do you need something cute, festive, and delicious for a BBQ this Memorial Day or 4th of July? Well, I've got you covered! I have been making these mini strawburgers for a few years now. I can't remember who it was in our family who first called them "strawburgers" but they got their name because they are little strawberry shortcake sandwiches.
I usually take them to our family BBQs and they disappear fast. An easy one or two bite dessert!
Strawberry Shortcake Bites aka "Strawburgers"
makes about 40-45 bites
print this recipe
2 pints strawberries, sliced horizontally
blueberries (optional, for garnish)
Shortcake (from the American Test Kitchen Family Cookbook):
2 cups flour
3 Tbs sugar
1 T baking powder
1/2 tsp salt
8 Tbs butter, cut into 1/2 inch cubes and chilled
2/3 cup half and half
1 lg egg, lightly beaten
1 lg egg white, lightly beaten
Cream cheese filling:
1 cup whipping cream, whipped
1 8 oz package cream cheese, softened
1 cup granulated sugar
1 tsp vanilla
Preheat oven to 425º. Pulse together flour, sugar, baking powder, and salt in food processor or with pastry cutter until combined.
Scatter butter pieces over the top and process until the mixture resembles coarse cornmeal, about 15 pulses.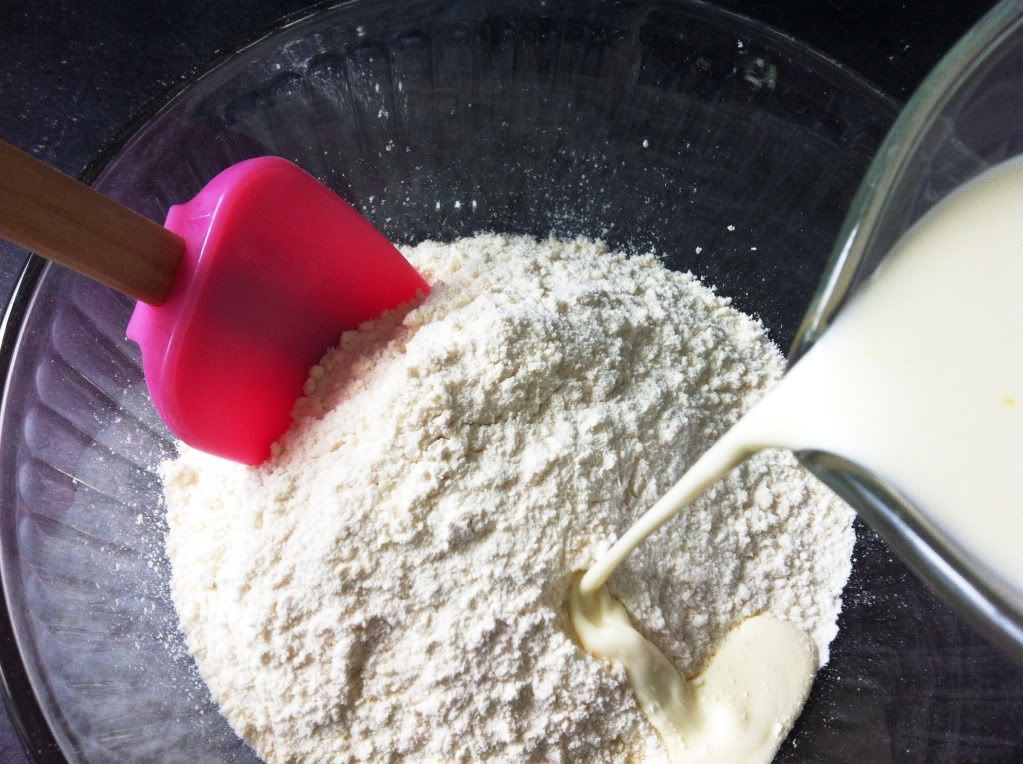 Transfer to a bowl. Blend the half and half with the beaten egg and pour into bowl with flour mixture. Stir with a rubber spatula until large clumps form. Turn mixture onto lightly floured surface and knead lightly until dough comes together. Pat dough with fingertips or rolling pin until its about 1/2 inch thick.
Cut out rounds with a 1 1/2 inch biscuit cutter or whatever size you want to make them. Place the rounds on a parchment-lined cookie sheet.
Brush the tops with the beaten egg white and sprinkle with sugar. I sprinkled some of mine with red sugar so they look a little more festive. Bake until cakes are lightly brown, about 7-9 minutes. Cool completely.
Now you can start on the filling. Whip cream until soft peaks then transfer to a bowl. Mix cream cheese until soft. Add sugar and vanilla and mix well. Fold the cream cheese mixture into the whipping cream. Put this mixture into a large zip lock bag and cut a large hole in one corner.
Cut strawberries across width-wise so they resemble disks.
Cut each cake in half. Pipe a dot of the cream onto the bottom to hold the strawberry in place. Then top with one slice of strawberry.
Pipe the cream cheese mixture on top of the strawberry slice. Then top with the other half of the cake. Repeat for the rest. Serve immediately or you can store them in the fridge for up to one hour.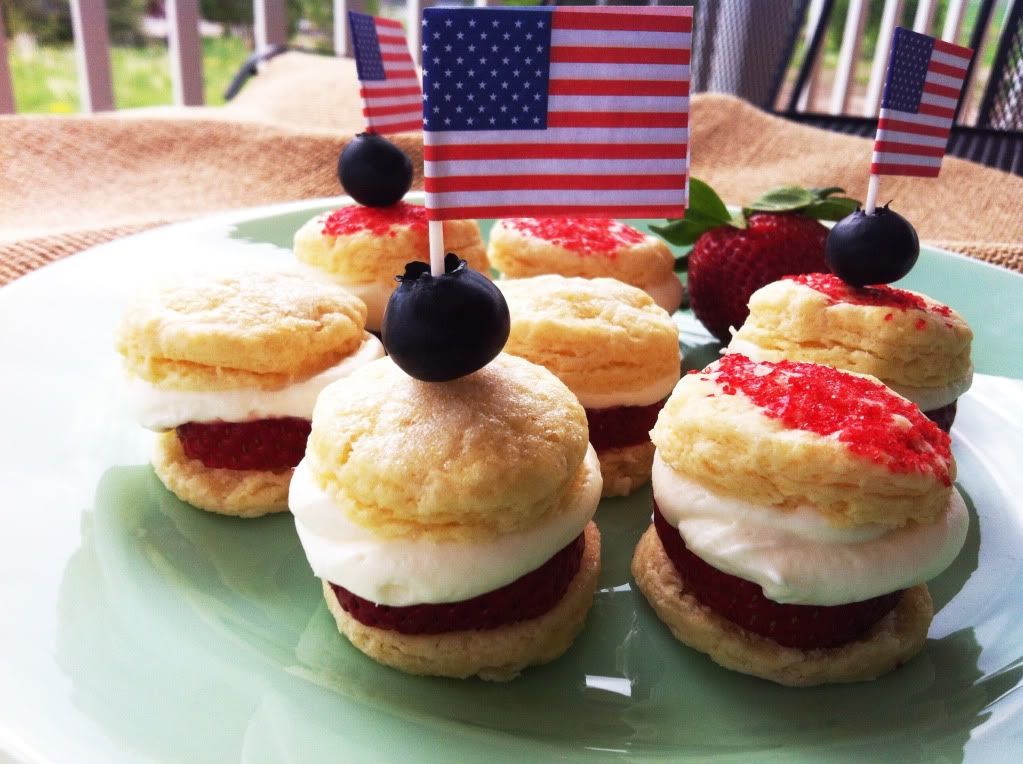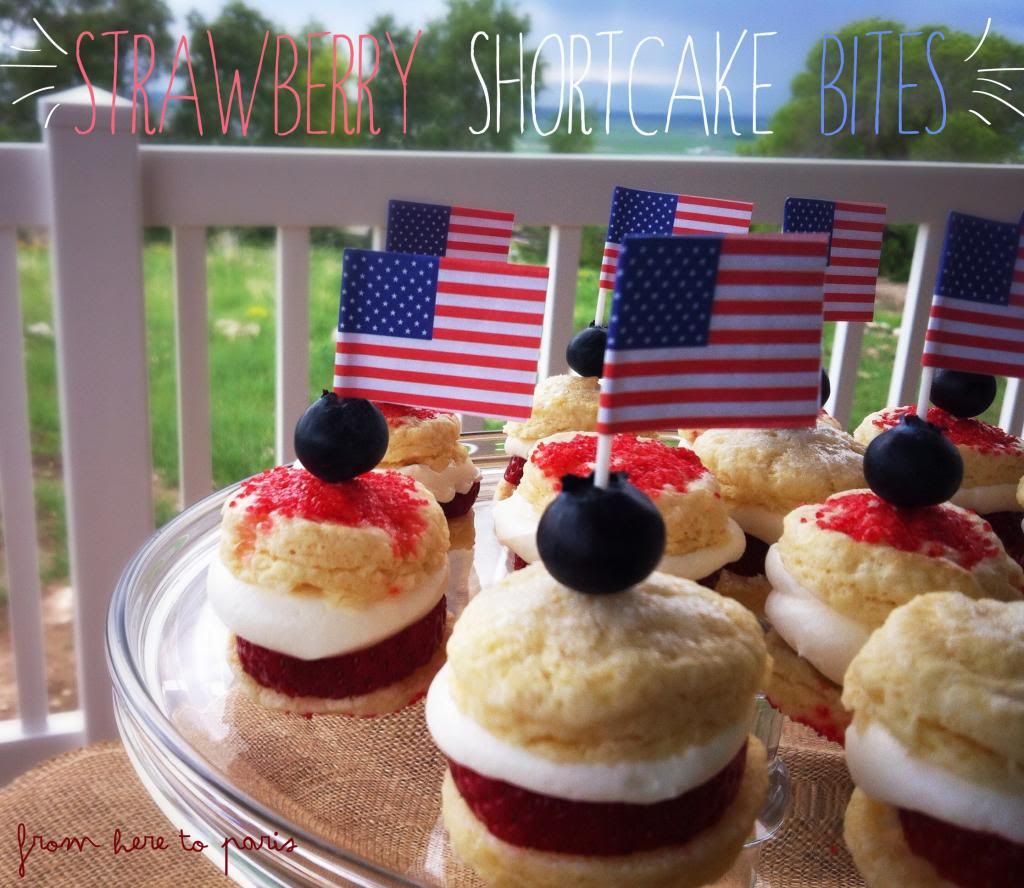 -Suzanne